While we absolutely love being hands-on and meeting with you and your dogs in person, online video chat classes share many of the same features of a small group class. The format is very similar. The instructor demonstrates with their own dog, then coaches you with your dog one-on-one via live video feed. You can see the other class participants and hear the feedback they receive.
Huge thank you to everyone who helped us test Zoom and make the video! Suzanne Bryner of Lucky Fido Dog Training with Foxxy, Christine K. with Paisley and Dino, Mike Ring of The Garden Creative with Gus, Denise Armstrong of Red Dog Training with Dr. Watson and Charlie, Lizzy Flanagan of Lizzy and the Good Dog People with Tuck and Finch, Beth Sautins of Doggy Geeks and Sue Thibedeau of Companion Dog Training. You're the best!
There are advantages to video chat classes. We ideally start teaching our dogs new skills in a low-distraction environment, which is much easier to set up at home than in a group class. There is no commute time, and no car ride for dogs who get car sick or feel anxious in the car. This format is great for dogs who have a tough time in a class setting, whether they are scared of unfamiliar people, are extremely excited about other dogs and/or people or if they just don't get along with other dogs. All from the safety and comfort of your own home.
Of course there are challenges, too. Humans and dogs are social species. The dogs won't get the positive associations to new people and new dogs, and they won't get opportunities to interact with each other in classes that might typically includes play sessions. This is especially worrisome to puppies in their critical socialization period. (Stay tuned for more information on this.) Those distractions we minimize when just starting new skills end up being helpful later on in training. Instructors — highly skilled and experienced with training lots of dogs — often work directly with a student dog to get them started with a behavior or help them through sticking points. Zoom is really easy to use, but it is a new skill that the humans must learn and takes a bit to get used to.
To Prepare:
Watch Zoom's video on getting yourself set up. (Note: Zoom is free for you to use. Currently, the free version limits meeting times to 40 minutes. Since we have a paid subscription, we don't have that time limit when we host a meeting and you don't have to pay for Zoom.)
Use Zoom's test feature to test your internet connection, video and audio ahead of the scheduled meeting time.
You'll need a laptop, phone or tablet with a webcam, a decent internet connection and access to Zoom. A laptop or computer with a webcam is easiest, but a phone or tablet will work.
If using a smartphone or tablet, prop it up or use a tripod so you and your dog are in the frame.
Choose a well-lit, quiet location. Avoid backlighting, such as standing in front of a bright window.
Have a nice supply of dog treats and a hungry dog. You'll want to have your dog's leash handy, as well as any other items needed for your class exercises.
You will receive a link from your instructor. Just click the link to join at the meeting at the scheduled time. We'll spend the first few minutes of class getting everyone situated.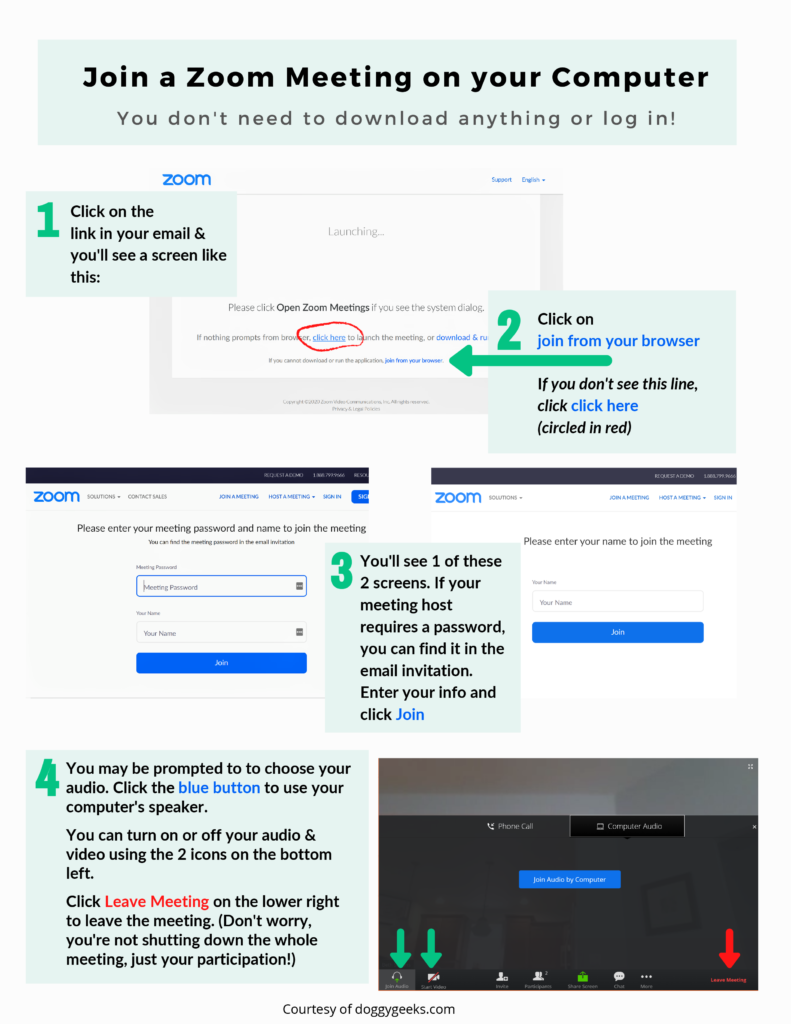 Some notes on settings:
You can adjust what you see on your screen. Speaker View will show the video feed of the person currently speaking. Gallery View will show everyone's video feed in a tiled format (think Brady Bunch). You can also pin a particular feed, which you might select if you only want to see the instructor's feed. The instructor will likely pin your feed during your one-on-one coaching time.
It's helpful to the instructor if you make sure the label on your video is displaying your name and your dog's name. If you need to change it, just hover over your name then click Rename. The instructor can also change this if you can't find that option.
You can mute yourself, and the instructor can mute participants. We will likely mute participants when we're demonstrating or coaching one-on-one. We cannot hear you if you are muted.
There is a chat feature (click the icon that looks like a little speech bubble), so you can type there if you need help while you are muted.
If the instructor's internet cuts out momentarily, hang tight. They will rejoin the meeting as soon as possible.
We hope to see you online soon!