Newly adopted dog? Or do you just want to work on a few things?
Are you frustrated or embarrassed by your dog's lack of manners and self-control?
Do you feel like you and your dog are speaking a different language?
Is your dog bored, or do you just want to teach them the basics?
Enjoy life with a happy, well-mannered dog.
Hone you and your dog's basic dog training skills. Learn alongside your dogs in a supportive, kind and fun environment.
Speak the same language as your dog. (Metaphorically.)
Learn how to help your dog thrive.
Group and Private Class Options
Private, one-on-one packages of 3 or 5 hour-long classes.
Private, one-on-one, 30-minute "mini" classes.
3 levels of small group classes.
Offered live online via Zoom.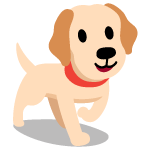 3 or 5 session packages available. One-on-one coaching with flexible scheduling.
$255
($85/session)
3 x 60-minute sessions
A few of the basics
Sessions must be used within 2 months of purchase
$415
($83/session)
Most of the basics
Sessions must be used within 3 months of purchase
Only available live online
M–F 10am–6pm ET
1-to-1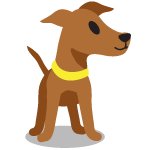 Jump start basic skills. Fun, short lessons offered on a session-by-session basis.
$55
per session
Included:
1 x 30-minute session
M–F 10am–6pm ET
1-to-1
Pick 2 basic skills or tricks to get started on (see list below)
Only available live online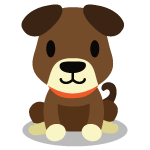 The most bang for your buck. Share struggles and successes with the class community.
Live Online: $100
for each part
Included:
4 x 40-minute sessions for each part
Once per week at set time.
Click here for schedule in eastern time.
Up to 6 dogs
Part 1: Name for Attention, Find It, Sit, Down, Puppy Pushups, Leave It, Come, Touch
Part 2: Sit-Stay, Wait, Drop It, Polite Greetings (Sit to Greet People), Foundations for Polite Leash Walking, Maybe a Trick or Two
Part 3: Down-Stay on Mat, Go To Mat, Stand, Watch Me, Distance Down, Leave It with Temptation Alley (Pre-req: MM Part 1)
Only available live online
Dog Training Basic Skills and Tricks
Name for Attention, Sit, Down, Stay, Leave It, Drop It, Wait, Come, Polite Greetings, Polite Leash Walking, Bow, Chin Rest, Crawl, Leg Weave, Peekaboo, Roll Over, Shake, Sit Pretty, Spin, Touch, Wave or other basic tricks
Experiencing Behavior Problems?
Because basic skills sessions are offered at a discounted rate, we will stick to basic skills only. If you're having behavior problems, we'll need to address those in behavior consultations using the non-discounted rate.