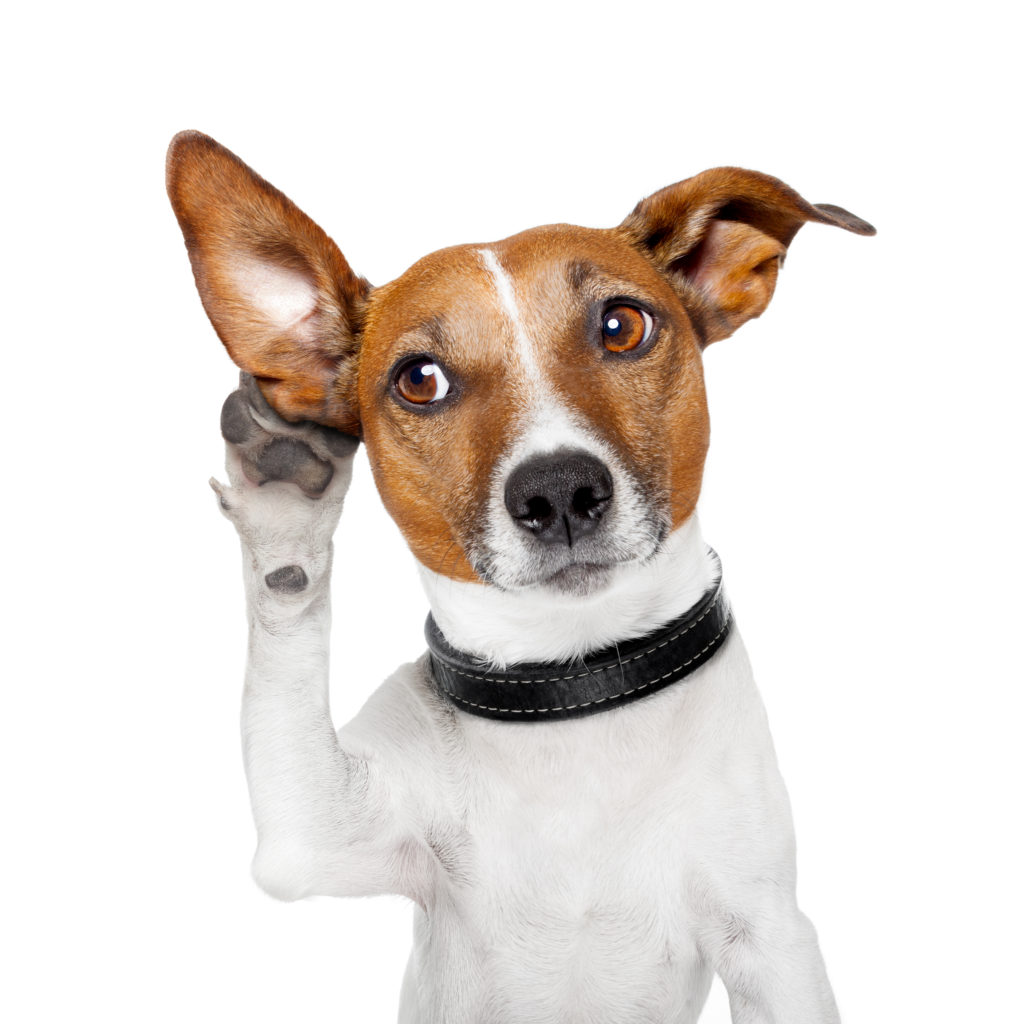 It happened again. A client very sheepishly admitted that she — gasp! — lets her dog sleep in her bed. Another client confided he really enjoys watching his dog engage in wild zoomies around the house. Yet another client revealed that he lets his dog hide when scared.
Guess what? That's okay! Here's a short list of some common client confessions. You won't ruin your dog by doing these things. Many are actually quite beneficial.
I give my dog "people" food.
Real food can be very high value and powerful to reinforce good behavior or to help change a dog's mind about scary or uncomfortable situations.
Don't worry — using human food in training contexts won't cause your dog to beg at the dinner table. For all they know, you got that yummy chicken from the pet supply store.
Be sure to stick to foods that are safe for dogs. And save the very best stuff for when you really need it.
I play tug with my dog.
Excellent! Tug is a great, cooperative game that helps your dog burn off energy.
If your dog loves tug, you can use the game as reinforcement in training.
Despite some bad information out there, there is no evidence that tug causes aggression.
Teach your dog a few rules — take it and drop it on cue and no teeth on skin (the game ends immediately). It's a good idea to take breaks to practice some manners, like sit or down, with continuation of the game as a reward.
I let my dog engage in intense play.
Does your dog get the zoomies, also known as frenetic random activity periods (FRAPs)? One friend of mine calls it rocket dog and another the witching hour. It can seem worrisome that your dog has seemingly lost her mind and is frantically zooming all over the place, but it's all in good fun. I love when my dogs race around joyously. Sadly, they're zooming less and less as they get older.
What about dogs who play roughly with other dogs? Dogs play in ways that can look really scary to us. Because dog play is a compilation of fake versions of behaviors from real life (play fighting, play fleeing, play feeding and play courting), we expect to see things like growling, biting, showing teeth, chasing, wrestling and even mounting. So how do we know it's play? Signs that tell us the play is okay include play bows (elbows on the floor with rear ends up in the air), bouncy inefficient movements, self-handicapping (they don't body slam or bite with full force), goofy play faces, role reversals (they take turns biting, chasing…), activity shifts (they switch gears between wrestling, biting, chasing…) and consent from all participants (if you call one dog away, the other happily returns to play some more).
These are great videos on dog-dog play by Jane Sigsworth of Dog Knowledge:
Dog-Dog Play Part 1 – MARS
Dog-Dog Play Part 2 – Consent Testing
I spoil my dog.
In other words, you give your dog a lot of good stuff and provide ways for them to have fun. This is excellent! Too many dogs are chronically bored. Enrichment and exercise are very important to a dog's well-being. This means lots of opportunities for things like going on walks, playing with other dogs or toys, chewing, playing training games, unpacking food puzzle toys, exploring and sniffing. Variety is the spice of life. Different foods and treats can also add a little bit more interest to your pup's life.
If we want to train our dogs, we need to motivate them. And, it's best to motivate them using good stuff!
For more on motivation using the good stuff, read this piece by
Allison Wells of I Love Your Dog and this one by Casey McGee of Upward Hound. Suzanne Bryner of Lucky Fido Dog Training writes about using toys as motivation here.
I've written about enrichment a few times here, here, here, and here. Tim Steele of Behavior Matters Academy writes about it here.
I let my dog on the furniture and in my bed.
That's fine! I do, too. This is really an issue of personal preference.
Although this myth has been circulated for many years, educated trainers and behaviorists agree that we don't actually need to worry about these things!
I allow my dog to say no.
Spot prefers not to be hugged or picked up? Buster turned away when you reached to pet him? Fido growled when you tried to clip her nails? Learn how to spot the signs that a dog is uncomfortable with something and listen to them. Once we recognize that a dog is upset, we can work to help them feel better. If we keep forcing them to endure or tolerate things that worry or scare them, the issue will only get worse and we risk causing our dogs to act aggressively in defense.
To learn more about body language, check out ispeakdog.org and stopthe77.com.
Here's a great video on body language in relation to petting (or not) by Kelly Lee of Dogkind.
The Academy for Dog Trainers Husbandry Project and Fear Free Happy Homes both aim to help dogs feel more comfortable with veterinary and body handling procedures.
Lorinanan.com offers online dog training courses on topics like nail trims and tooth brushing.
I comfort my dog when she's scared.
Imagine finding yourself in a situation where you come face to face with the very thing that scares you the most. A room full of snakes or perhaps being locked in a very dark, enclosed space. Now imagine that a friend attempts to reassure you that all is fine, with kind words and a hug during your ordeal. Would your friend's attempts at making you feel better cause you to be more afraid next time? No…………. because you cannot reinforce fear. The same is true for dogs, so go ahead and comfort your dog when she is scared."

Sarah Pennington, Yaletown Dog Training
One way we help dogs with fear issues is to change their reaction from "Oh no, not that again" to "Hooray! I love it when that happens because it predicts amazing stuff for me!" We make sure to keep the dog feeling safe at all times, breaking the exercise down into small components and progressing to the next level only when the dog is ready. This is called desensitization and counter conditioning, explained here by Zazie Todd of Companion Animal Psychology.
Do you have any secret confessions? Related to dogs, that is.