I simply remember their favorite chews,


And then we don't feel so bad.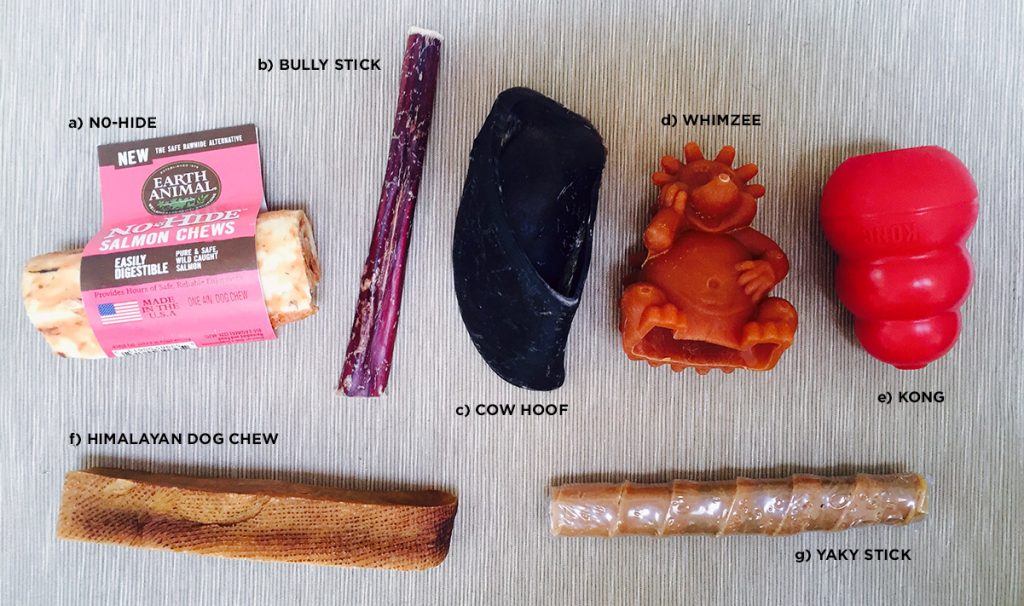 It looks like we'll be stuck inside for a couple more days of rain and storms. That means our pups will be stuck inside too. If your dogs are anything like mine, they can get a little stir crazy. Indoor activities can really help, including dog training, puzzle games, and of course…chews! Here are a few of my dogs' favorites.
A) NO-HIDE BY EARTH ANIMAL
These are a somewhat recent discovery for us (thanks to Clipper's Canine Café). No-Hide chews are touted as a safe and healthy alternative to rawhides that are 100% digestible. (In case you didn't know, rawhides are no longer considered a safe chew.) We've found these to be long lasting in comparison to many other chews. They come in three sizes (4 inch, 7 inch and 10 inch) and three flavors (chicken, salmon and beef).
B) BULLY STICK
Bully sticks are available in many sizes and shapes. We tend to stick with the 6-inch straight ones, but occasionally mix it up to add some variety. We tend to look for ones that are made in the USA, from 100% free-range, grass-fed cattle. Barkworthies is one of our go-to bully stick producers. When they've chewed down to the end, we trade our dogs for a treat to prevent choking.
C) COW HOOF
Our dogs will chew hooves plain, but we will sometimes add a little bit of canned food and freeze them to make them more enticing. Be forewarned, hooves can get a little smelly once they've been chewed on for a bit, but the dogs love them and it really isn't too bad. Again, we watch for pieces that have broken off and trade our dogs for them, to prevent choking.
D) WHIMZEES
Whimzees are vegetable-based chews that come in several fun shapes. The one pictured here is the favorite in our house, the hedgehog. To make them last longer, we will often stuff them with something like yogurt or canned dog food, and stick them in the freezer.
E) KONG
Most dog people are very familiar with the classic Kong. It is a rubber toy with a large opening in one end and small opening in the other. There are a lot of recipes online for stuffing a Kon. Our current favorite is non-fat Greek yogurt with the leftover crumbs from treat bags mixed in. We put a little bit of liver or a chunk of canned food in the bottom, use a butter knife to thickly coat the filling around the interior of the Kong, and finish it off with a crunchy cookie stuck in the middle. Then, you guessed it, we pop it into the freezer so that it lasts longer. Our quick-prep method is to put a little bit of canned food into the bottom, and then smash a Plato Salmon Strip into the Kong. Our dogs do great with the classic red Kong, but heavy chewers do better with the heavier duty black version. (And here's a little video I made with another favorite recipe!)
F) HIMALAYAN DOG CHEW
This interesting chew is made from yak milk. It can last for a very long time. The really interesting part happens with pieces that have broken off and with the ends that are left. Pop them into the microwave on high for about 30 seconds, and they puff up. After they have cooled, the dogs enjoy a crunchy treat! These chews go in and out of favor with our pups.
G) YAKY STICK
A bully stick wrapped in a Himalayan dog chew!?!?! The Yaky Stick is a special occasion chew in our house. Our dogs tend to crunch off the yaky part, leaving little bits around of the floor, to reveal the bully stick center. Once the bully stick is gone, they'll go back and chew up the rest of the yaky part. This definitely lasts longer than a bully stick, since they have to work through the other part first.
OTHER CHEWS
One favorite not pictured here is a raw marrow bone. We scoop out most of the marrow first, as we've found our dogs get upset tummies otherwise. Sometimes, we opt for chews that will keep our dogs busy for just a few minutes or as a special treat following something like a nail trim. These often include Sam's Yams Sweet Potato Chewz or Beams Catfish Skin Sticks. Our dogs really enjoyed elk and moose antlers in the past. They don't seem to care for them much anymore, but maybe your pup will love antlers!
I'm pretty sure I'm leaving out several other fantastic options, but I hope this gives you a few new ideas to engage your dogs when the weather isn't so nice!
Please remember to supervise your dog with any chew or toy, and to ask your veterinarian if a particular chew is appropriate for your dog.